home-header
You Can Afford To Dwell Well
COMING HOME NEVER FELT SO GOOD
Moving into a new home or remodeling the one you are in can be a wonderful experience or one that is frustrating and overwhelming. An experienced Interior Designer can help you with space planning, material selections, coordination and overall project management, which in the end saves you money, time and achieves your desired vision.
RCI Interiors works with a wide variety of vendors so we are able to offer you a large selection of furnishings and accessories that will suit your unique tastes.
The original kitchen of this executive home was just 125 sq. ft, with very dark cabinets and dated tile counter tops and appliances. We upgraded the kitchen to match the rest of the home's interiors, and increase the square footage without changing the footprint of the house.
By removing a wall between the kitchen and an underused utility room, we were able to double the original size of the kitchen. Italian white cabinets trimmed in a dark wood match existing details in the home. Cork flooring, a butcher block counter, and butter lemon walls lend warmth to this modern design.
This Big Island Home is on the slopes of Mauna Kea and is surrounded by large green pastures and the owner's horses. The interiors are made up of furniture pieces, artwork and antiques that this family has collected over many years.
Although western in feeling, there are many touches of whimsy throughout this home, such as the paper mache chicken head sitting a top a buffalo coat in the dining room. The outdoor fireplace, with it's raised hearth, is a favorite area for this family to gather on those cool mountain evenings.
This kama'aina home was designed with an indoor-outdoor lifestyle in mind. Just steps from an ancient Hawaiian fishpond, this home is the reflection of the owner's local heritage.
Strong colors are a vibrant contrast to the white sand and pale sea nearby. Hawaiian antiques mixed with newer furniture pieces give this home an authentic feel, and it has become a place for this family to enjoy for many years to come.
Meet The Person Who Will Take You There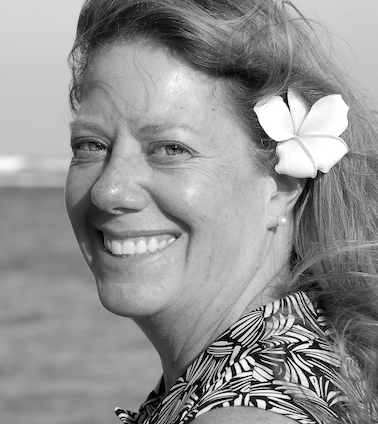 Rici Guild
With over 35 years of experience, Rici Guild, ASID, has worked in all aspects of interior design: residential, commercial, and hospitality. We are able to work from the inception of a project, and carry it through to the final installation of furnishings and equipment. Most of our projects are located in Hawaii and California.